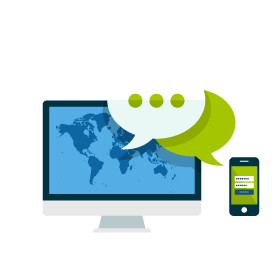 Social Media
An effective social outreach will help your business engage directly with customers, ensuring you stay at the fore front of their minds.
We can help you in understanding how to put out compelling content that gets your business shared across the wide variety of social networks.
We will help you to understand the opportunities that arise from taking control of your social media presence. Social media is consistently the most untapped potential growth source for a business. Merely posting updates or informative articles can help you gain new audiences you never would have imagined.
Time Management

We can help you effectively manage your social accounts without the significant time investment.
Social Media Calls
Facebook, Twitter or Pinterest content can instantly persuade potential customers to visit your business or website.
Social Media Management
We understand that social media can be intimidating. We advise you on strategies and offer alternative methods to keeping your social accounts lively.
Creation & Customization

We help you craft compelling social media accounts aesthetically. Simple, beautiful profiles can attract anyone.
"We have a constant flow of new leads thanks to this amazing SEO company. They gave us all the tools to convert leads into customers."
Nathan Vilske
CEO & Founder
"This incredible team managed to not only get us top positions on Google for all of our top keywords, but they kept us there, as well! I would highly recommend this company to anyone."
Angelle Lawson
Quality Realty Service
"This hard-working team provides a consistent stream of fresh leads while equipping us with what we need to turn those into loyal customers."
Naomi Hughford
Admissions director
Tell us about your project and start the transformation
Ensure your businesses future by adapting to the exponential growth of social media.